Welcome to my official website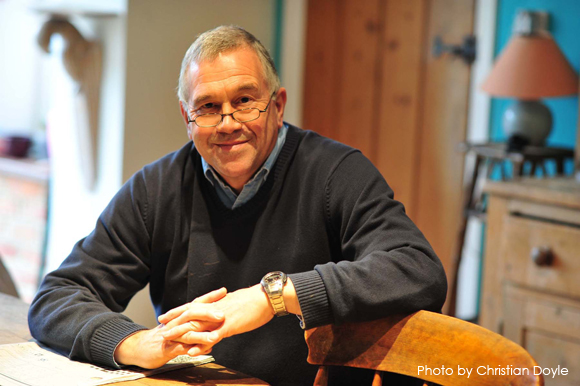 I am Simon Brett, the writer responsible for the Charles Paris, Mrs Pargeter and Fethering series of crime novels, as well as radio and television series such as No Commitments and After Henry. I am very fortunate to make a living (most of the time) from something I would do anyway. I can't remember a time when I didn't want to write. I still do, and I want to do it better.
One of the excitements of this year has been the presentation of the CWA Diamond Dagger to me on 30 June at a very enjoyable dinner at King's Place. This is one of the highest accolades in the crime writing world, and I'm honoured to join the list of distinguished names engraved on the trophy. Here is a photograph (in a rather red light) of the moment of handover from Alison Joseph, Chair of the Crime Writers' Association.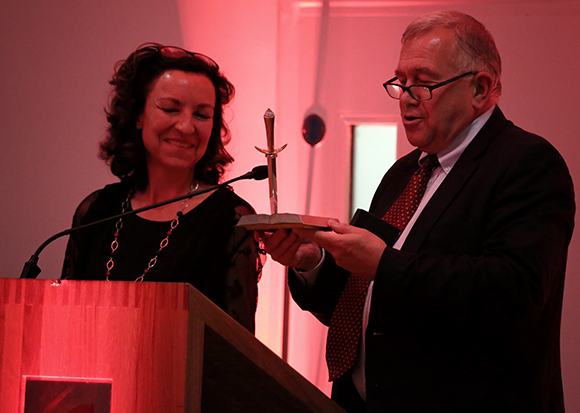 I am, incidentally, not to be confused with Simon Brett, the wood engraver. I occasionally meet people who say how fortunate I am to be able not only to write but also to create such skilful and beautiful wood engravings. Sadly, I have no aptitude at all for the visual arts. Should you wish to find the other, artistic Simon Brett, his website is:
www.simonbrett-woodengraver.co.uk.
But here on mine, by clicking on the relevant links, you will be able to find out more about me and my writing.
The Cinderella Killer
Landing a minor part in the Empire Theatre Eastbourne's Christmas production of Cinderella, Charles Paris soon discovers that his main role is gently to introduce the show's baffled American star, famous sitcom actor Kenny Polizzi, to the bizarre customs of English pantomime. During their convivial sessions in the local pub, Charles finds himself increasingly caught up in Polizzi's tangled affairs as the American fends off a vengeful soon-to-be-ex-wife, an obsessed groupie, and a barely-controlled drink problem. But Charles is about to be far more involved than he might wish when he stumbles across a body beneath Eastbourne Pier, a neat bullet hole in the centre of the forehead. As the world's press descends on Eastbourne, the pantomime rehearsals descend into chaos and he himself comes under suspicion, it's up to Charles to put his renowned sleuthing skills to the test to find out who really killed his fellow cast member – and why.